Orchard Hill Rehabilitation and Healthcare Center
>
Events
>
Webinar: MEDICAID for Long-Term Care – 3/30
Webinar: MEDICAID for Long-Term Care – 3/30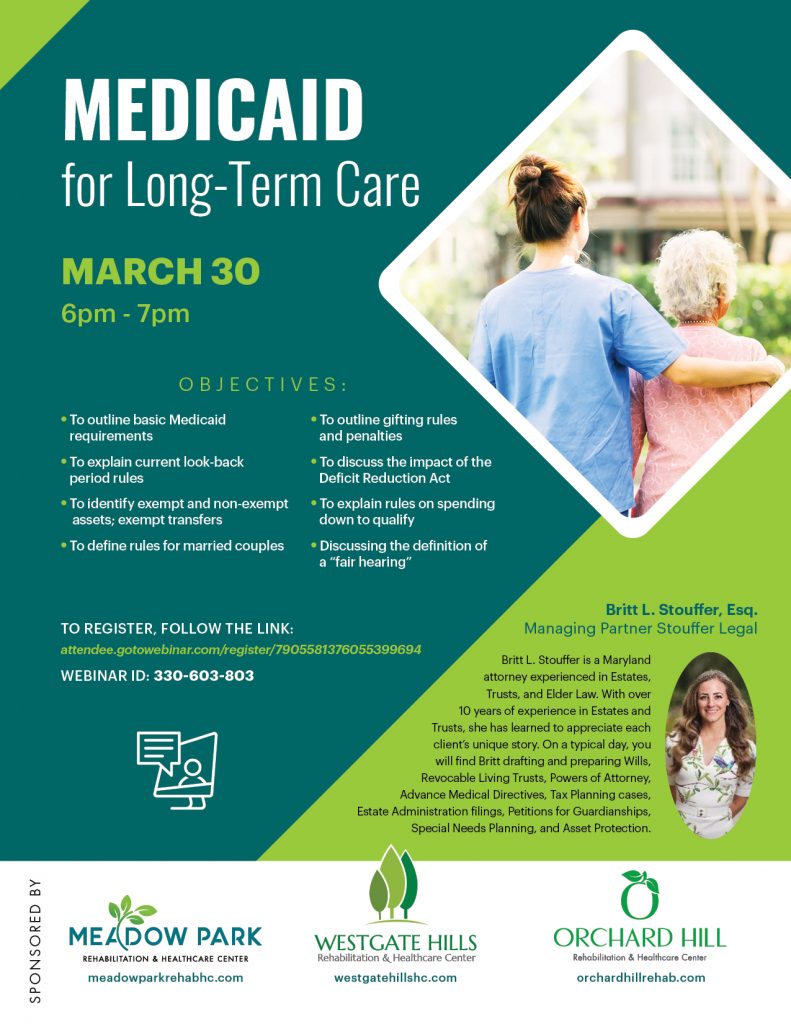 MEDICAID for Long-Term Care
MARCH 30 • 6pm – 7pm
OBJECTIVES:
To outline basic Medicaid requirements
To explain current look-back period rules
To identify exempt and non-exempt assets; exempt transfers
To define rules for married couples
To outline gifting rules and penalties
To discuss the impact of the Deficit Reduction Act
To explain rules on spending down to qualify
Discussing the definition of a "fair hearing"
TO REGISTER, FOLLOW THE LINK: attendee.gotowebinar.com/register/7905581376055399694
WEBINAR ID: 330-603-803
Britt L. Stouffer, Esq.
Managing Partner Stouffer Legal
Britt L. Stouffer is a Maryland attorney experienced in Estates, Trusts, and Elder Law. With over 10 years of experience in Estates and Trusts, she has learned to appreciate each client's unique story. On a typical day, you will find Britt drafting and preparing Wills, Revocable Living Trusts, Powers of Attorney, Advance Medical Directives, Tax Planning cases, Estate Administration filings, Petitions for Guardianships, Special Needs Planning, and Asset Protection.