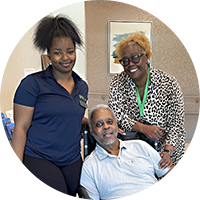 "I had the pleasure of enjoying Orchard Hill for the second time recently and I must say, it was just as good as the first time. The activities offered were enjoyable and engaging, and the admissions department was extremely helpful throughout the process. The staff, rehab, and nursing were all very kind and accommodating, making me feel right at home. One of the things I love about this facility is the fact that residents are free to roam and have visitors 24/7, which really adds to the sense of community and connectedness. Overall, I highly recommend this facility to anyone looking for a supportive, friendly, and welcoming environment."
– EIrving Garrett Jr.
---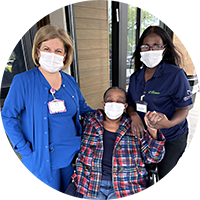 "I stayed in Orchard Hill during my recovery. It was absolutely great. The various activities were well organized and productive, and I had so much fun participating in them. The nurses were always available to help whenever I needed assistance, and they did it with kindness and professionalism. I would definitely recommend this center to anyone in need of rehabilitation services."
– Elaine Carrington
Pictured left to right: Ivana Belkic LPN, Elaine Carrington, Kalma Stewart (Activity Tech)
---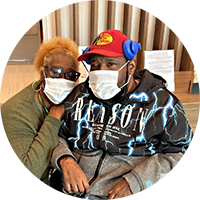 "I cannot express how grateful I am for the care and attention provided to me from Orchard. The staff went above and beyond to ensure my comfort and well-being throughout my stay. Orchard Rehabilitation's process was incredibly effective and I couldn't have asked for better."
– Lawrence Coles
(Pictured with Norma, Receptionist)
---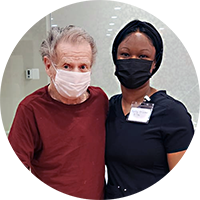 "Amazing staff! Rehab and nursing welcome you with warm arms. Thank you for helping me get back home to my family. Memories I'll have forever!"
– Charles Marshall
---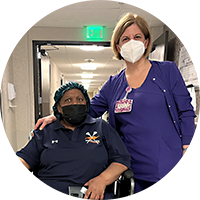 "My stay at Orchard Hill was great. The rehab department was skilled and helped me with making great progress for my recovery. The activities department was great and went above and beyond for me and other residents. I would recommend Orchard to family and friends."
– Towanda Evans
---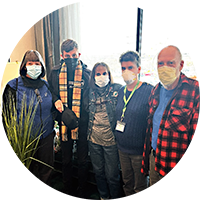 "Our nearly 86-year old father was taken to Orchard Hill Rehab Center after suffering a stroke on New Year's Day. Although my father suffered no physical impairment due to the stroke, at the time of his admittance, he was not able to speak more than 2-3 words at a time nor able to write. The Orchard Hill therapists did an amazing job working with our father. In no time at all, he was able to communicate with us using nearly complete sentences and was able to write his name and address. This was a huge relief to us. We were also impressed with the way every single staff member interacted with us. Each one was very welcoming and greeted us very warmly. We could tell that Orchard Hill Rehab Center is managed very well. Our dad's social worker (Sherry) took great care of him. She made dad feel comfortable during his stay. Sherry saw to it that our very quiet father was moved to another room due to his non-stop screaming roommate. Dad was paired with a very nice quiet gentleman with a similar personality. He was much happier after this move. My sisters and I were very happy that we chose Orchard Hill Rehab Center for our father. This was a new experience for him (and us) and we couldn't have done any better with our choice. Keep up the great work at Orchard Hill!"
– Neal Roberts and family pictured with Sherrie Chester, Social Worker
---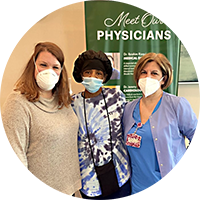 "My stay at the facility was very productive. Rehab was outstanding and staff was very kind. I'm happy they gave me the ability to walk out of rehab proudly."
– Cynthia Yancey
---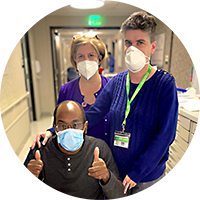 "The activity department was good, very entertaining and kept me occupied. Rehab was very productive. Overall, it was acceptable."
– Dr. Richard Stevenson, Jr.
---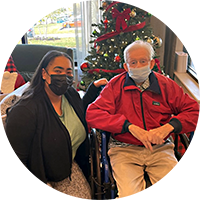 "I have found the care at orchard hill to be above measure. The nursing staff and aides were attentive and caring. Ot and PT were intense and thorough. They pushed me to be the best I can be."
– Edward Kennedy
---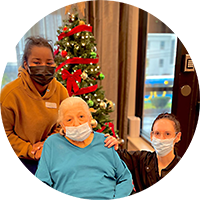 "I truly enjoyed myself at the facility. The rehab staff was very diligent throughout my rehab progress. They pushed me to work hard to reach my end goal so I can go back into the outside world. I would also like to thank the nursing department and the admission team for making my stay as comfortable as possible. I would recommend this facility to family and friends."
– Jean Stamm
---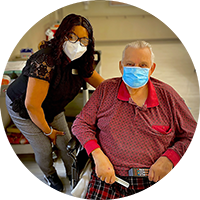 "I'm pleased to be receiving my rehabilitation at Orchard. I'm grateful to the team of nurses at Orchard Hill, they have gone above and beyond throughout my entire stay. I look forward to the daily activities hosted by the life enrichment team- the entire team is entertaining, caring, and creative!"
– Ernest Grecco
---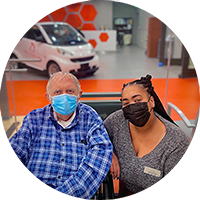 "Therapy at Orchard Hill is excellent! The Rehab team was professional and motivating! I'm so thankful for the amazing nurses who helped me stay on track with my medication. The food was great, with a nice selection of food options. Thank you for helping me get well and back on my feet so I can return home to my family. I'm forever grateful."
– Robert Hood
Admitted from Hospital University of Maryland St. Joseph's
---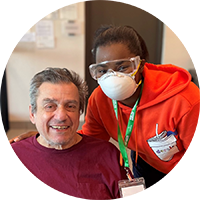 "I have been a resident at Orchard Hill Rehab for over a year and I've had a great experience. I love the activities here and that the team listens to me during our Resident Council meetings. I wouldn't want to go anywhere else!"
– John Alexis
---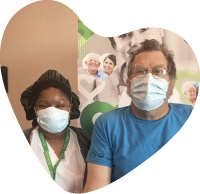 THANK YOU FOR EVERYTHING!
"I have really enjoyed my stay at Orchard Hill. The nurses and aides are always going above and beyond to make sure that I am well taken care of. When I call, they come running in to see what I need. The therapy department is amazing! They are always encouraging me to do my best. Thank you to everyone for everything!"
– Leo Buck
---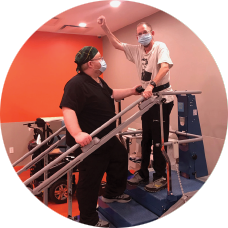 "Nursing has been AMAZING! My nursing staff were always on top of my medications, and the care provided surpassed my expectations. I enjoy the fact that nursing came in and helped me immediately as soon as I needed them. They were always making sure that I was okay. Kenny from PT helped me a lot! He is always helping me learn new ways to get stronger and independent."
– Paul Thompson
---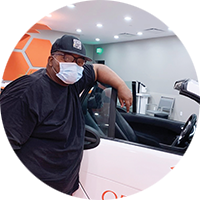 THEY'RE REALLY HELPING ME GET STRONGER!
"This was a good therapy experience! I feel like they're really helping me with strengthening my body. The therapists are great. They are helpful, attentive, and willing to help me with anything they can. They treat me like they know me! The room accommodations are wonderful. It is never too noisy in the unit. After 8 pm it's very quiet and I am able to rest well!"
– Kavin Divers
---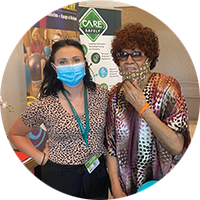 "This is my third stay at Orchard Hill and the nurses and staff are like family! I WOULDN'T GO ANYWHERE ELSE FOR REHAB!"
– Joyce Seawright
---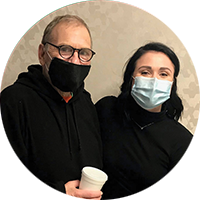 I Am Grateful For The Friendly Atmosphere!
"My stay at Orchard Hill was such a great experience! Sandy in PT and Nurse Camille were my absolute favorites! The staff here treats you like a close friend and I was grateful for the friendly atmosphere they have. Ellen, the Admissions Director, was amazing! She was always checking in on me every day and even though she was always extremely busy she would stop to help me with the smallest of things such as ordering from my favorite takeout place. It's those small details that make Orchard Hill better than the rest!"
– Gregory Hart
---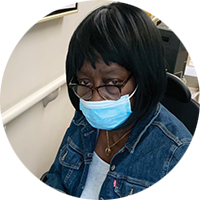 RATED 5 STARS BY ONE OF OUR LONG TERM CARE RESIDENTS!
"The therapists are helping me to get stronger every day! Everyone is friendly and attentive to my needs and ALWAYS very consistent. The nursing staff is great and they happily help me when I need them. Social workers Antoinette and Tonya are very nice and helpful. My room is comfortable and I have a private TV to watch from. I have only good things to say about nursing staff and therapy staff!"
– Felicia Mitchell
---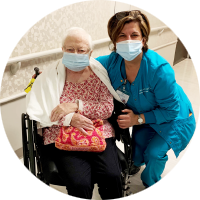 THERAPY WAS GREAT!
"The GNAs Sasha and Lakeisha and Nurses Victoria, Ruth, and Ivana are amazing at their jobs! They are extremely helpful. The TV had so many options on what to watch and the phone in my room worked great and it was so nice to be able to speak with my family. The new renovations and accommodations were also VERY nice and it was so clean!"
– Rose Brusca
---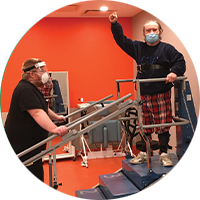 I MADE A COMPLETE 180 SINCE I CAME!
"The Orchard Rehab and Nursing Team have been absolutely amazing! They provided nothing but encouragement during my time at the facility. I have made a complete 180 since I first came. Jay and Debbie in rehab couldn't have been more helpful and supportive during my recovery.
I truly will miss the staff."
– Herman Lawson
---
"My stay has been a GREAT experience. Everyone takes care of me and always comes to check on me – when I ring the bell, someone always comes in running. Everyone makes me feel like family and it is a very friendly atmosphere. Since I don't have my family coming to see me, I feel very welcomed here and like a member of a family. Orchard Hill is an amazing facility. Even as busy as they are, the nurses or GNAs come into my room and attend to me like I am the only patient they have. That's what makes this facility so spectacular! The renovations here are amazing and everyone helps each other and that's very important. PT and RT are amazing! They push me just enough because they want me to get better and understand how my body works better. RT Emeka, PTs Mary, Grace, and Nate always tell me the goal of what they want me to accomplish. They also help me with things I can do when I go home. I am always encouraged and never forced to do activities which makes me want to push myself even harder. If I will ever be in this situation again, I would love to come back to this facility to get the help I need because everyone has my back."
– Frankie Johnson
---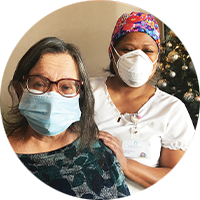 MY STAY HERE HAS BEEN GREAT!
"My stay in the facility has been great. My nurses and GNA/CNAs have been very helpful to me and assisted me with my needs. I really like the GNAs and CNAs and how hard they work – they are always on top of their game. OT is great because I get to play games every morning for half an hour and it is the highlight of my day. PT is great, I love the exercises that they come up with for me and after exercising, I get a prize for doing a great job!
Thank you for everything!"
– Elaine Cockroft
---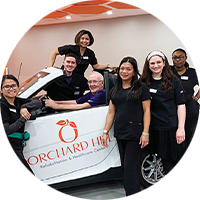 "The therapy team at Orchard Hill has been absolutely amazing and I cannot begin to thank them enough. The therapists Mary-Grace, Mona, Tiffany, Miriam and Steve are astounding! My abilities with my legs and upper body have improved 500% since my stay here. Not only can I walk long distances but I can also feed myself which I could not do before I came to Orchard Hill."
– Robert Ahlfeldt
---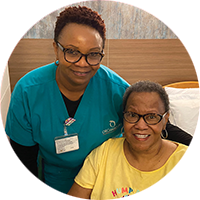 ORCHARD HILL IS ABSOLUTELY INCREDIBLE!
"This is my second time at Orchard Hill and I wouldn't go anywhere else. The facility is always clean and the renovations are stunning! Not only is the building charming, but so is the staff. The therapists work with you and make sure that the patient comes first. The nurses take the time to come and talk to you, and it shows that they truly care. Their kindness and concern for my progress has been very heartwarming."
– Joyce Seawright
---
"Orchard Hill is a wonderful place with good people. The administrator, Dov, is always on the ball. He doesn't miss a thing and has great customer service skills. Thank you so much for taking care of me. I couldn't walk when I came in here but now I am ready to get back into action! If I ever need rehab again, I am definitely coming back to this place."
– Lisa Fender
---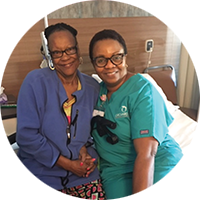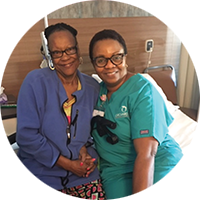 "I am a retired nurse and was recommended to come here by my doctor. The staff is very knowledgeable, especially Fran. She is a wonderful nurse. I love everyone from physical and occupational therapy. The therapy staff knows what they are doing, especially Steve. I give Orchard Hill a perfect 5-star rating. I am going to miss everyone and if I ever need rehab again, I will be coming back to this place!"
– Annie Bolden Jenkins
---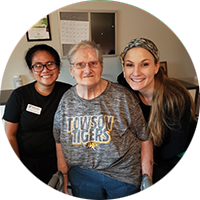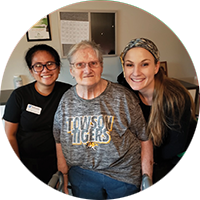 "The physical therapy team at Orchard Hill is great. They are courteous and have helped me to walk with my walker again. There are a lot of caring aides here and many of them have gone above and beyond their job duties to help me."
– Sandra Fertitta
---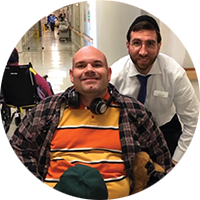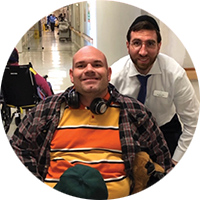 "Orchard Hill is a group of amazing people. The nurses are friendly and attentive, and therapy is wonderful. I came in weak and I am leaving strong. They definitely got the job done. I would come back to Orchard Hill if I needed therapy again. I will miss everyone!"
– David Kirschenhofer
---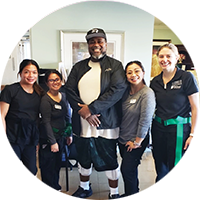 "The Orchard Hill therapy department is great! When I first came in to the facility, I needed to be carried. Now, I am able to walk by myself, all thanks to the awesome staff members that helped me."
– Randy Lynn
---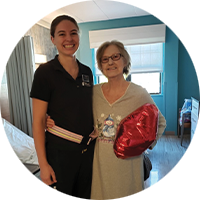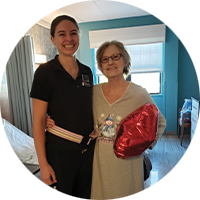 "The therapy staff members at Orchard Hill are just amazing! My PTA, Amanda, supported me every step of the way. She motivated me when I was tired, and always pushed me to do my best. We had a very special bond. I will miss her dearly."
– Kathleen Lance
---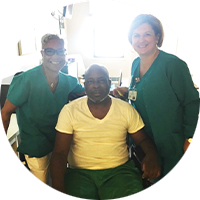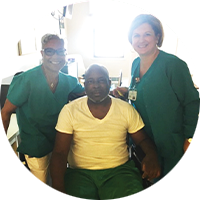 "I came to Orchard Hill 6 months ago. My goal has always been to get back home with my family. Therapy and nursing have been very good to me. Amanda and Mary Grace, from PT, and Nurse Yvonna and Nurse Camille have been with me the whole time. Because of them, I was able to focus on my goal and get back home!"
– Terrance Alston
---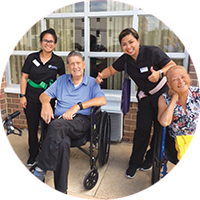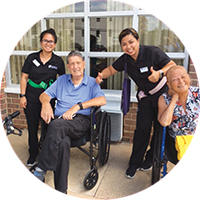 "My wife and I came to Orchard Hill so we could complete rehab together. Overall, our experience has been an A+. We have become very close with the staff here at Orchard. The nurses are exceptionally good and all of the therapists we have worked with are very knowledgeable. I would come back to Orchard Hill in a second. I can't expect we could get better treatment at any other facility. We are glad to go home but we will definitely miss all of the people we've come in contact with while here."
– William Hays
---
To Everyone at Orchard Hill,
Thank you for all of your kindness, patience, and professionalism. From the moment Joy greeted us to the goodbye hug from Camille, we were treated with gracious respect. Everyone took the time to answer each question no matter how trivial and did so with dignity. Thank you seems too simple for the care we needed and received, but thank you is it!
– The Xenakis Family
---
"I am pleased to give this testimonial on behalf of Orchard Hill. I want everyone to know how wonderful this facility is. From the nurses and their quick response time, to the rehab staff that keeps me motivated on my toughest days, I am so grateful to be here. The dining room sta members are always friendly and accommodating to my wants and needs. The food is good and I always appreciate the fact that they have snacks available for when I am hungry outside of mealtimes. Rehab, even though it is hard, keeps me motivated. I appreciate them and feel that they are always rooting for me.
I would come back to Orchard Hill, again and again, it really is a wonderful place."
– Wanda Raymond
---
"When I picked Orchard Hill I knew it was going to be a good place. I had several places to choose from and I am so glad I came here. The location is convenient, the food is delicious, the rehab services are great and the staff members are attentive and responsive. Therapy got me to where I needed to be to go home and I am very thankful for everything this facility has been able to do for me. I am excited to go home but I will miss the residents and staff members very much. If I ever need therapy services again, I will definitely be coming back here. I strongly recommend Orchard Hill to all of my family and friends!"
– JOSEPH ARIGO
---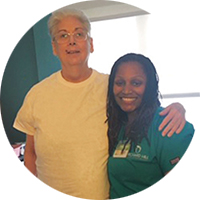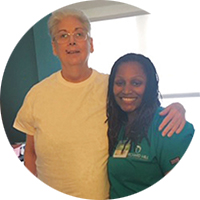 "When I first came to Orchard Hill I didn't know what to expect. I couldn't walk and I had very little expectations. After my first day at Orchard Hill, Jason, the administrator, found out it was my birthday and surprised me with a party consisting of balloons and cupcakes. I have formed a lot of good relationships with the staff here especially Cindy, Tiffany, and Amanda from therapy. The food is good, I've managed to gain back the weight that I lost, the facility is clean and the employees go above and beyond to help me."
– Shirley Bonkowski
Pictured with Waketa Thomas, Unit Manager
---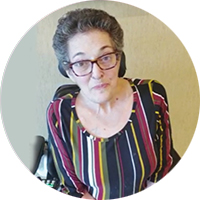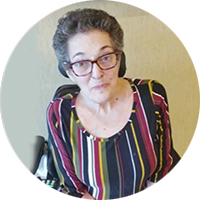 "I am on my way out of Orchard Hill rehab and I am so happy to be going home. There are treasures here at Orchard Hill. I don't think there is a place that tries harder than this place did to accommodate me. Even in my states of frustration of wanting to get the most out of my body, they tried with me as much as anybody could've. They also went above and beyond to accommodate my Kosher diet needs. I am leaving here sorry that there are people I won't be seeing anymore. This is a good place."
– Joy Goldberger
---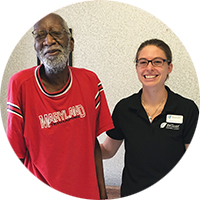 "The staff members at Orchard Hill are nice and attentive. Since being at Orchard Hill I am able to stand, walk long distances and have been building up my endurance. Amanda, Tiffany and Miriam from therapy were all especially helpful. They've take care of everything for me while I've been here. I am glad everything has worked out and I am able to go back home. Orchard Hill is a good place to be . . . I can't say anything bad about it."
– Thomas Brunson
---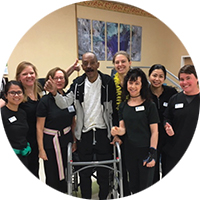 "I came to Orchard Hill about two months ago. I was in really bad shape, unable to sit, stand or walk. I needed therapy and 24-hour care to do just about everything. The staff at Orchard Hill is very caring. The therapists have made my recovery enjoyable and I felt very cared for during my stay. I worked really hard in therapy and now I am able to go home with my family."
– Keith Spann
---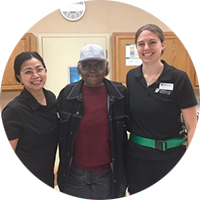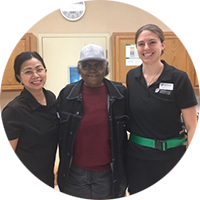 "The staff members at Orchard Hill aren't just here to do a job, they're here because they really care about their patients. One day I was sick, the staff came in one at a time just to listen and make sure I was okay. Mary Grace, Amanda, Cindy, and Trisha made me feel so good and lifted my spirit, even though I was feeling so bad. They didn't have to take the time out of their day to check on me, but they did, and it made me feel special. If I didn't love them before, I really loved them then! The next day I was right back in therapy knowing they were there to support me. It was amazing. The minute they walk into my room, they bring the sunshine with them. I love Orchard Hill because the people who work here are human and they really care about me."
– Michele Gibson
---
MY FIRST & ONLY EXPERIENCE AT A REHAB CENTER HAS EXCEEDED MY EXPECTATIONS!
"My first and only experience at a rehab center has exceeded my expectations! The staff at Orchard Hill has been warm and inviting since I arrived. As a first-time rehab patient, I wasn't sure what to expect upon admission, but from the housekeeping staff, Nurses, GNAs, and all the therapists I always felt welcome, and that the staff really wanted to get to know me. They always remembered my love for chocolate! Working with the therapists throughout my stay has made me feel strong enough to go home without any fears. They made working on simple tasks that were hard for me in the beginning easy, by working with me and getting to know me! The encouragement from the PT/OT staff really meant a lot to me, they were able to help me realize I could do a lot more than I thought! If I had to go somewhere for rehab, this is the place to be!
– Sandra Thillman
---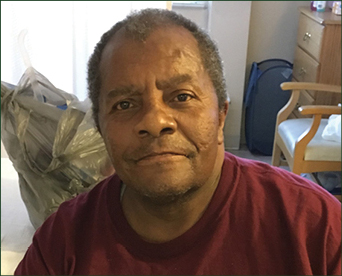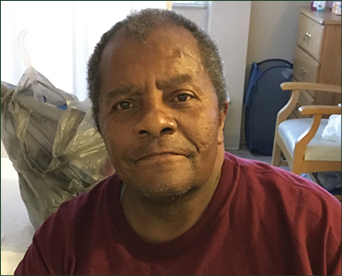 I AM REALLY ENJOYING MY STAY AT ORCHARD HILL REHAB
"I like the way I am being treated by the nursing staff. I find the PT/OT staff to be very good at what they do & they are helping me reach my goals. I will recommend that the VA send more veterans to this facility as the center is in a great location with a variety of activities to keep veterans engaged in great socialization opportunities. Also, the ability to have leave to visit family if they are well enough to do so is an added benefit."
– Benjamin Scott
Skip to content