Get to Know Our Social Worker, Sallyann Banfield in honor of Social Worker Month!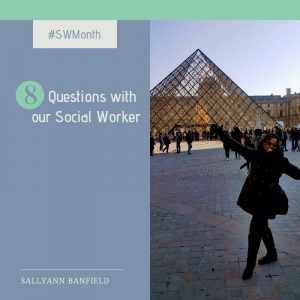 In honor of Social Worker Month, we would like you to get to know our dedicated social worker, Sallyann Banfield, who is part of our family here at Orchard Hill. Recently, we were able to sit with Sallyann and ask her 8 questions and invite you to read her interview below:
1. Briefly describe what you do all day.
A: I provide support to all residents to maintain quality of life, support short term residents with discharging and navigating their return home. I also support family and residents with continued navigation with their plan of care within the facility.
2. What is the best thing about being a social worker?
A. Figuring out a way to meet someone's needs, when they cannot figure it out themselves.
3. What's been one of your proudest moments working for Orchard Hill?
A. I can remember this time when I worked really hard to help a resident transition back to an ALF. She was so happy when she left and I was so proud of all her hard work. It still makes me smile.
4. What do you like to do when you're not at the office?
A. Dance
5. What inspires you?
A. My spiritual life.
6. If you could pick one superpower, what would it be?
A. Precognition
7. What is the song title that best describes your personality?
A. Hakuna Matata
8. What are six words or less of advice for others in your profession?
A. Do not take work home with you.